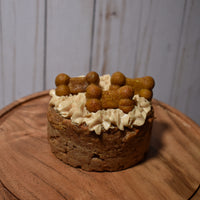 Packed with the same delicious applesauce, carrots and honey ingredients as the Ruffcake. Must be Ruff brings you our birthday cake for that special four legged friend in your life! There's no better way to celebrate your furry friend's birthday than with a wholesome, healthy, guaranteed tongue drooling cake from Must be Ruff!
Ingredients: Whole Wheat Flour, Peanut Butter, Carrots, Apple Sauce, Yogurt, Honey, Eggs, Baking Soda, Pumpkin, Cinnamon. 
Refrigeration Required.